Good afternoon! Today I'll be assessing and ranking a series of ten maps from modern and classical fantasy stories. There are too many of these to count, but I'll do my best—apologies if I'm not able to get to one you wanted to see. By no means am I some sort of cartography expert, but I do have a fair bit of knowledge in this area, and this is a ranking I've wanted to do for a while.
I'll be ranking the maps on a scale of 1 to 5, with a 3 as "good," considering each of their styles, impacts, and representations. Note that all of these rankings are still subjective to my own opinions and experiences.
Let's jump right into the rankings. First off, of course, we have Tolkien's map of Middle-earth.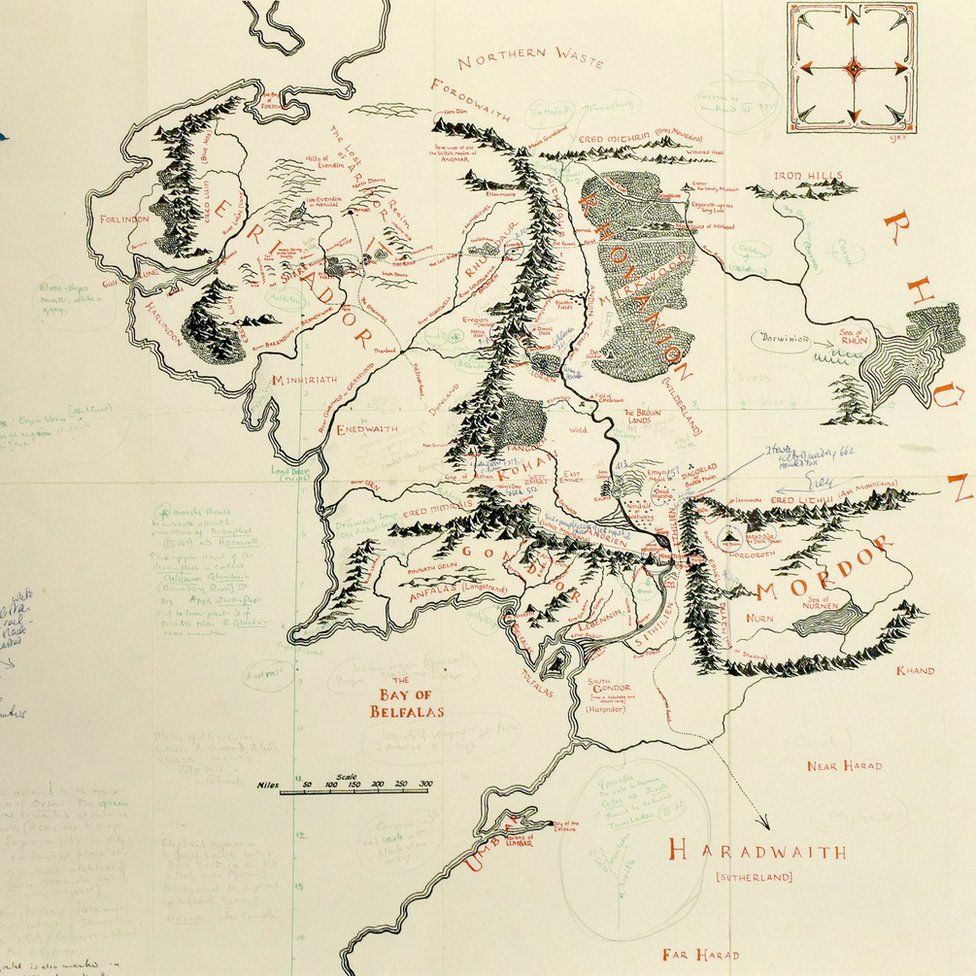 This map instantly brings back memories of the time I was first introduced to Tolkien's work, when I was just obtaining an interest in worldbuilding and writing. Since then, I've discovered more about the origins of Tolkien's world, his purpose in creating languages and cultures, and his general views on war and peace. This map serves as an embodiment of his passion left behind; and it still holds up today to a great degree. Notable are Tolkien's sweeping mountain ranges—if somewhat oddly shaped—his river patterns, and—most importantly, in my opinion—his names. Coming from a linguistic background, Tolkien created multiple languages for his world, and so many of the location names present on this map have realistic and fascinating roots.
The Middle-earth map occupies a special place in the fantasy genre as being one of the first, perhaps the very first, of its kind and detail. As such, it also deserves a unique place in this ranking. For the path that it forged, I'll give it a 5/5.
The Wheel of Time Westland Map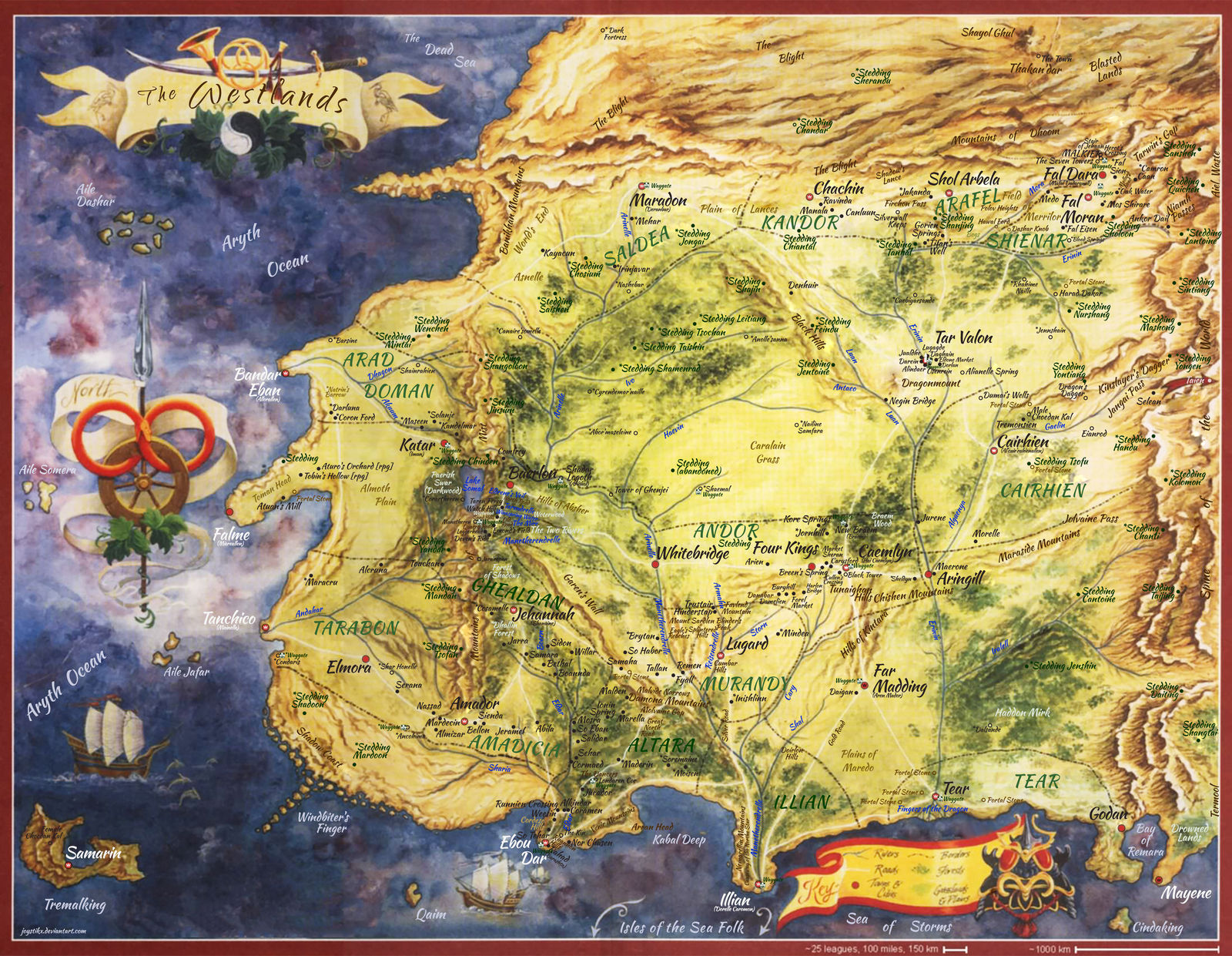 A vibrant, colorful map, Westland or Randland from Robert Jordan's famed series has qualities that reminisce of Tolkien's Middle-earth. Incredibly complex and brimming with decorations, this map is among the best in the genre. This fourteen-book series, completed by Brandon Sanderson after Jordan's passing, has an incredibly intricate world, which this map most definitely captures. 5/5.
Map of Roshar
Perhaps the most modern map we'll discuss, I still consider Brandon Sanderson's map of Roshar to be a genuine masterpeice. You can almost see the storm inside the map, a feature essential to the Stormlight Archive series as a whole. Special credit goes to Isaac Stewart for working with Brandon on this map. Shrouded in mystery but presented in an attractive fashion, it has quickly become one of my favorites of all time. 5/5.
Misborn's Luthadel
This map from Sanderson's Mistborn portrays the city of Luthadel, the first novel's primary setting. Everything here is just really well done, from the gates to the palace at the center to the river to the docks. 4/5. Sanderson's maps never fail to impress.
Following will be a few maps from series I haven't read or finished, but that I still found to be quite interesting and worth mentioning.
N.K. Jemisin's map of the Stillness
While I unfortunately have yet to read the Broken Earth trilogy, I believe this map is worth a mention. While perhaps not as refined as some of the other, more popular maps in the genre, it is unique in its physical inclusion of plate tectonics—a realistic aspect of worldbuilding that most authors throw to the wind. While I'm not saying it's necessary to include tectonics when creating an engaging world, it can help to enhance the realism. Jemisin's minimalist representation of cities makes you wonder at the vastness of her world—something I'm sure was not unintentional. I look forward to reading this trilogy in the future. 4/5.
The City of Camorr
This one's first on my TBR. From Scott Linch's Gentlemen Bastards series, Camorr presents a fascinating visual map, and is unusual in style for a city representation. Split into sections by streets of water, I want to read The Lies of Locke Lamora more every time I see this map. 5/5. Very exited to see what happens here.
Map of Discworld
Terry Pratchett's Discworld map is a work of art, to say the least. The aesthetic here is amazing, the multifarious inclusions intense yet somehow not overwhelming. 5/5 here. This map serves its purpose, and does it well. Another series to add to my TBR.
Westeros from A Song of Ice and Fire
Before ranking this one, I feel the need to say that I have in fact read A Game of Thrones, and plan to complete the series when I have the chance. That aside, this map is a classic for a reason. The medieval layout for cities and representations of deserts are not only gorgeously done within the books, but represented as such on the map. The map's geography is realistic, with interesting echoes of our own world. Perhaps the only criticism I have is that the western continent, according to Martin, is supposed to be roughly the size of South America. If this is so, it should have taken the characters in the book far longer to travel from place to place. Overall though, still a classic. 4/5.
Popular YA fantasy maps
I don't often talk about young adult books on this blog, but I'm also not about to pretended that the subgenre doesn't have its fair share of memorable maps. Here are a couple I thought I'd mention to top off this ranking.
Pyrrhia from Wings of Fire
I don't have much to say about this one, but in reading the series years ago I don't think I ever picked up on the fact that this map represents, roughly, a dragon. This would go hand in hand with the story's themes. Other than that, this map serves its purpose, if minimally. I'll give it a solid 3/5.
Map of Narnia
This is a controversial take, but I believe that C.S. Lewis's The Chronicles of Narnia can be considered YA. Of course, as the genre has a rather fluid definition, either way works fine.
The map of Narnia is grand in scope like Tolkien's Middle-earth, but lacks much of the development present there. Of course, there's a key difference to keep in mind: This map was created as a representation of the books' events, while Tolkien's map was (I believe) drawn beforehand as he was undergoing a long worldbuilding process. I would give this map a 2/5, but not as a result of story quality—the physical representation simply isn't as strong a device as most of the others we've seen.
Other News: Writing Plans and Book Reviews
Starting tomorrow, I plan on dedicating myself to writing 500-1,000 words a day on a novel I've been planning for some time now. My goal is to finish by the end of May, but we'll see what happens. Each week from now until then, I plan on posting the number of words I wrote during the week in that week's blog post. The novel is planned to be about 100,000 words long. More information including genre and other news will be forthcoming.
On the topic of book reviews, I have two new ones for you! This week I listened to the novellas Shadows for Silence in the Forests of Hell and Sixth of the Dusk by Brandon Sanderson. This completes my experience with his short story collection Arcanum Unbounded, which I half listened to, half read. I'll have a full review up for that soon.
Quote of the Week
You are never stronger than when you land on the other side of despair

Zadie Smith